Main application
Water, waste water and sticky liquids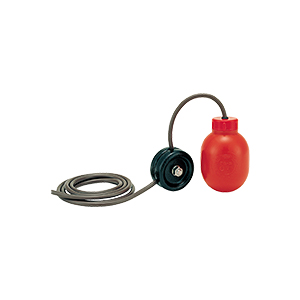 Main feature
Insensitive to suspended solids or viscosity
No affection from suspended solids or viscosity of measured liquids due to large buoyancy.
Stable operation
No affection from turbulence or rough flow as detection signals are not given until the float is inverted at the high or low points.
Flexible adaption to any environments
Easy installation by just suspending the sensor. Control range is user adjustable. Multiple point versions are also available. (FQ88, FQ66)
Large and rugged terminal box for easy handling, with a cover requiring no screws nor bolts.
High reliability
Among high accuracy reed switches, only those that meet our original standards are used to ensure stable operation over the long service life.
Principle of Operation
When the level rises, the float goes up. The float is inverted at the high limit point, causing the integrated weight to contact the magnet. This results in the reed switch opening, and the high alarm is given.
When the level falls and the float is inverted at the low limit point, the reed switch opens. The integrated weight moves only at high or low limit points, which means the operation is not affected by turbulent flow. Due to this latch function, one unit of FQ can control pumps.